The Self-Generation Incentive Program (SGIP) helps California residents and business owners pay for clean and efficient energy technologies that lower greenhouse gas emissions and reduce on-site electric demand.
That means SDG&E* customers can receive significant savings for installing qualifying distributed energy technologies, such as battery energy storage, designed to meet all or a portion of their electrical needs.
In response to climate change and increasing wildfire threats and power outages, the California Public Utility Commission (CPUC) has authorized over $800 million for SGIP through 2024, more than 80% specifically for energy storage. If your home or business is in a high fire-threat area or other qualifying community, you may be eligible for an energy storage system at very low cost to you.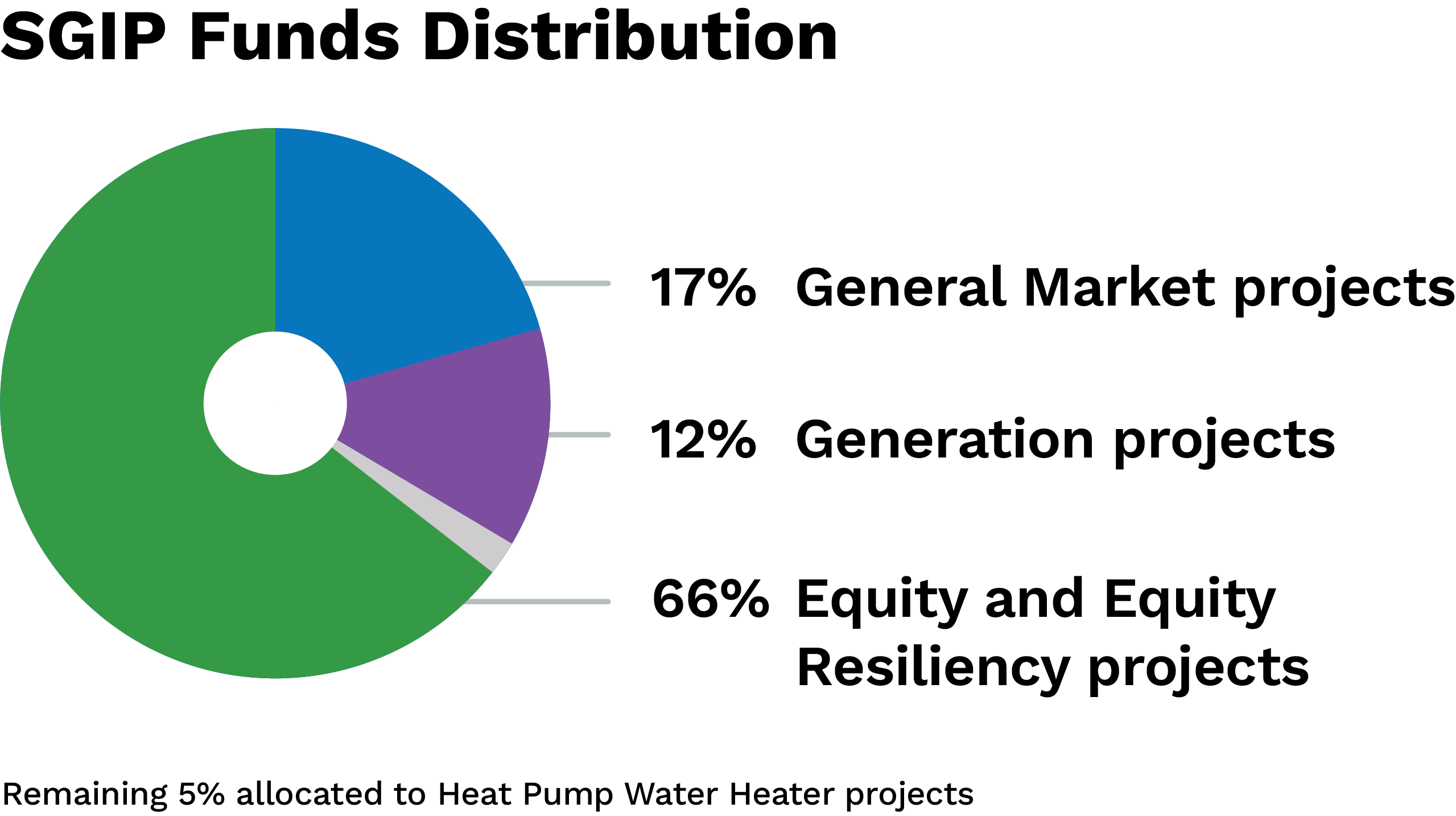 *The Center for Sustainable Energy® administers SGIP in the San Diego Gas & Electric® (SDG&E) service territory.
Incentives for Eligible Systems
SGIP application requirements and incentive calculations are complex, so we strongly encourage you to work with a project developer, electrical contractor or equipment manufacturer to secure an incentive and successfully complete an installation. Keep in mind that while higher incentives are available to systems that meet specific program requirements, incentive rates are stepped down over time as certain project capacity milestones are accomplished. The best time to apply is now.
Incentive amounts may be impacted by the use of federal tax credits, energy storage discharge duration and total capacity at the project site.
Energy Storage Builds Resiliency
An energy storage system can make a business or home more resilient during an emergency power outage or a Public Safety Power Shutoff event and reduce peak demand charges. When paired with solar, energy storage becomes even more economically valuable because businesses can operate independent of the grid without pausing or losing products. It's best to review the expected financial return on energy storage prior to investing in a system.
Benefits of SGIP Incentivized Technologies
Reduce greenhouse gas emissions
Be prepared for emergency and planned outages
Integrate solar with energy storage
Lower your dependency on the power grid
Save money on rising electricity costs
Decrease or eliminate utility peak demand charges
Generate and store your own power